Dog training in Greensboro, North Carolina
Best Dog Trainer in Greensboro, NC
Every dog is different, which is why we train according to your dog's specific needs.
With over 200+ five-star reviews, dog owners trust us to help improve their dog's behavior. No matter your dog's size, breed, age, or problem—we can help!
We offer life-changing dog training in Greensboro NC for dogs of all breeds and backgrounds.
If you want your dog to listen to you and your commands or just adopt good dog behavior all around, we have talented dog trainers on our team that can help transform your dog for the better.
We'll teach your dog to be nice and polite around other dogs and people, to stay calm and cooperate with you when you're outside, to be easy to control even when they aren't wearing a leash, and help you sort out any other behavioral quirk or problem you may have with your dog.
Want your dog to listen to you?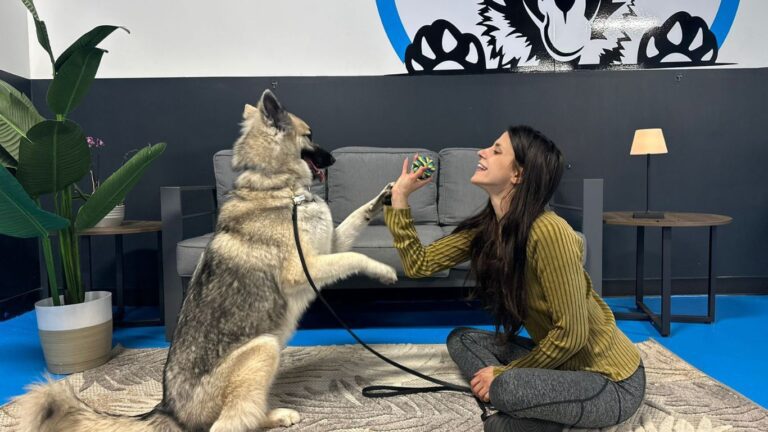 In-Home Dog Training in Greensboro, NC
Dog training isn't just a luxury—it's a necessity. Especially for certain large breeds. The earlier they start training, the better, but not everyone has the means to do so. That's why we're offering easy and convenient options for In-Home Dog Training in Greensboro NC.
We believe that dog training should be accessible to everyone, no matter where you live or what your lifestyle looks like.
Through our in-home training program, we make training more accessible to you by bringing all our best dog trainers to your doorstep. Our trainers have years of experience handling dogs from all backgrounds. Whether you need help with aggression, obedience, or if you just want to change your dog's behavior, we make sure we always offer you the best dog training in Greensboro NC.
Confidently handle your dog with a Certified Dog Trainer in Greensboro NC at your side—no matter your dog's size, breed, age, or behavioral problem!
Dog Training Services in Greensboro, NC
Need help with your dog's behavior? Check Out Our Extensive Dog Training Services in Greensboro, North Carolina We have training programs that put your needs first. We'll help you understand why your dog behaves the way they do, what you could do to help them, and set a training plan for you and your dog. Whatever you need help with, you can count on us to have the perfect option for dog owners looking for a certified dog trainer in Greensboro NC
Get a dog that listens to you Obedience training sets the foundation for all other types of dog training and builds a strong relationship between you and your dog through basic commands such as Sit, Stay, Come, Down, and Heel.
Behavior Modification Training
Give your anxious dog a better life Training corrects signs of separation anxiety like excessive barking and teaches your dogs how to be comfortable without your presence, so you'll be able to leave them behind with peace of mind.
Advanced/ Specialized Training
Stop bad dog behavior Training lets you address a dog's overreaction to what's in their environment while on a leash and maintain control over them, no matter where you are.
Help your dog feel safe. Crate training is a great way to potty train your dog and teach them how to stay calm in an enclosed space.
Set your puppy up for success! Puppy training won't just help your puppy develop good manners. They'll avoid developing behavioral issues as they grow up by learning life-changing skills like being comfortable with close human contact, getting used to new activities, regular grooming, and more!
Potty train your dog. Potty training is one of the most important things you can do for your dog. It's important to start early and be consistent with your potty training routine
Dog/Leash Reactivity Training
Keep your dog calm when on a leash Dog/leash reactivity training is designed to help dogs who are reactive or aggressive on a leash, which is helpful for dogs that are fearful or anxious in new environments.
Control your dog–even without a leash! Off-leash training is perfect for dogs who have a good foundation of obedience commands and are ready to learn how to stay focused and under control even when off-leash.
Why Choose K9 Mania Dog Training in Greensboro NC
K9 Mania Dog Training is the best choice for dog training classes in Greensboro NC. Under our care, we can provide dogs with all the tools they need to thrive no matter where they are – at home, at the park, or even at your local Costco!
Train on your own time
Life gets busy and people need to go to work. Sometimes, it gets really difficult to have the household's schedules aligned. Cancel sessions less and have your dog trained at your convenience! Make it easier for you to succeed.
Can't take your dog out of the house? No problem
Don't know how you're gonna get your dog from one place to another? Just can't take your dog out? Don't worry. With in-home dog training, you can minimize risk and still have the best dog training classes in Greensboro NC.
A familiar environment
Some dogs require more attentive care than others. Despite being social animals, dogs still largely prefer staying close to their pack. Because of this, it could be stressful for some dogs to stay at a boarding facility with different, strange dogs—especially for smaller or older dogs. Find a solution with an in-home certified dog trainer in Greensboro NC.
Great for setting boundaries for "off-limits" areas for your dog
Like people, dogs behave differently when they're outside their home. Common issues that only manifest inside the home might not come up in an obedience class, plus plenty of dogs feel more comfortable since they're in a familiar environment.
Ready to get the dog of your dreams?
Dog training is the key to your fur family's lifetime of happiness. Dog training classes in Greensboro NC can help you create a strong bond with your dog, which leads to better behavior and healthy communication. With our strategic and holistic approach to dog training, K9 Mania Dog Training can pinpoint the exact problems with your dog. This allows us to address and solve specific issues, whether it's environmental or psychological.